Asus RT-AX88U Dual Band
Specification:
Gaming Router
Network Standard
IEEE 802.11a, IEEE 802.11b, IEEE 802.11g, IEEE 802.11n, IEEE 802.11ac, IEEE 802.11ax, IPv4, IPv6
Product Segment
AX6000 ultimate AX performance
Coverage
Very large homes
Data Rate
802.11a : 6,9,12,18,24,36,48,54 Mbps
802.11b : 1, 2, 5.5, 11 Mbps
802.11g : 6,9,12,18,24,36,48,54 Mbps
802.11n: up to 600 Mbps
802.11n (1024 QAM) : up to 1000 Mbps
802.11ac (1024 QAM) : up to 4333 Mbps
802.11ac: up to 3466 Mbps
802.11ax (2.4GHz) : up to 1148 Mbps
802.11ax (5GHz) : up to 4804 Mbps
Antenna
External antenna x 4
Memory
256 MB Flash
1 GB RAM
Wi-Fi Technology
OFDMA (Orthogonal Frequency Division Multiple Access)
Beamforming: standard-based and universal
1024-QAM high data rate
20/40/80/160 MHz bandwidth
Transmit/Receive
2.4 GHz 4 x 4
5 GHz 4 x 4
Operating Frequency
2.4 GHz / 5 GHz
Processor
1.8 GHz quad-core processor
Encryption
WPA2-PSK, WPA-PSK, WPA-Enterprise , WPA2-Enterprise , WPS support
Firewall & Access Control
Firewall
SPI intrusion detection, DoS protection
Access control
Parental control, Network service filter, URL filter, Port filter
Management
UPnP, IGMP v1/v2/v3, DNS Proxy, DHCP, NTP Client, DDNS, Port Trigger, Port Forwarding, DMZ, System Event Log
VPN Support
IPSec Pass-Through
PPTP Pass-Through
L2TP Pass-Through
PPTP server
OpenVPN server
PPTP client
L2TP client
OpenVPN client
WAN Connection Type
Internet connection type
Automatic IP, Static IP, PPPoE(MPPE supported), PPTP, L2TP
Utilities
Router setup wizard
Firmware restoration; Device discovery
printer setup utility
Ports
RJ45 for Gigabits BaseT for WAN x 1, RJ45 for Gigabits BaseT for LAN x 8
USB 3.1 Gen 1 x 2
Features
Features
Link Aggregation
– 802.3ad
MU-MIMO
Traffic Analyzer
Adaptive QoS
WTFast Gamers Private Network
AiProtection Pro
Parental Control
Guest Network: 2.4 GHz x 3, 5 GHz x 3
VPN server: PPTP Server, OpenVPN Server, IPSec server
VPN client : PPTP client, L2TP client, OpenVPN client
NAT Pass-Through: PPTP Pass-Through, L2TP Pass-Through, IPSec Pass-Through, RTSP Pass-Through, H.323 Pass-Through, SIP Pass-Through, PPPoE relay
Mac OS Backup
Enhanced media server (AiPlayer app compatible)
– Image: Jpeg
– Audio: mp3, WMA, Wav, PCM, mp4, lpcm, ogg
– Video: asf, avi, DivX, MPEG, mpg, ts, VOB, WMV, mkv, mov
AiCloud personal cloud service
3G/4G data sharing
Printer Server
– Multifunctional printer support (Windows only)
– LPR protocol support
Download Master
– Support bt, nzb, HTTP, ed2k
– Support encryption, DHT, PEX and magnet link
– Upload and download bandwidth control
– Download scheduling
AiDisk file server
– Samba and FTP server with account management
Dual WAN
IPTV support
Roaming Assist
Button
WPS Button, Reset Button, Power Button, Wireless on/off Button, LED on/off Button
LED Indicator
Power x 1
Wi-Fi x 2
WAN x 1
LAN x 1
USB x 2
WPS x 1
Power Supply
AC Input : 110V~240V(50~60Hz)
DC Output : 19 V with max. 2.37 A current
Package Information
Dimensions
11.8 x 7.4 x 2.4 ~ " (WxDxH) (Without Bezel)
Weight
1010 g
Operation mode
Wireless router mode
Access point mode
Media bridge mode
Description:
Asus RT-AX88U Dual Band
Next-Gen WiFi Standard – 802.11ax WiFi standard for better efficiency and throughput.
Ultrafast WiFi Speed – 6000Mbps WiFi speed to handle even the busiest network with ease.
Wider Usage and More Convenience – 4 antennas + 8 LAN ports to support more clients at the same time.
Commercial-grade Security – AiProtection Pro, powered by Trend Micro™, blocks internet security threats for all your connected smart devices.
Better Partner with Mesh System – Compatible with ASUS AiMesh WiFi system for seamless whole-home coverage.
Smart Home Ready – Control your RT-AX88U by linking your Amazon Alexa to it with simple voice commands.
The New Era of Home WiFi
The growing number of connected personal and IoT devices has led to an overall increase in network density that is pushing the limits of the current Wi-Fi standard. The latest 802.11ax standard provides future-proof technologies, higher network efficiency, faster Wi-Fi speeds, greater coverage and improved battery life for connected devices, providing a significantly better networking experience for users.
Warp-speed WiFi
RT-AX88U is a 4×4 dual-band Wi-Fi router that provides 160MHz bandwidth and 1024-QAM for dramatically faster wireless connections. With a total networking speed of about 6000Mbps — 1148Mbps on the 2.4GHz band and 4804Mbps on the 5GHz band — RT-AX88U is 2.3X faster than 802.11ac 4×4 dual-band routers.
Built for Multi-device Households
With a revolutionary combination of OFDMA and MU-MIMO technology, 802.11ax technology provides up to 4X greater network capacity and efficiency in traffic-dense environments. Previous-generation 802.11ac Wi-Fi can only handle one device at a time on each network channel, which is an inefficient use of available bandwidth. OFDMA support in the 802.11ax Wi-Fi standard divides each channel into small sub-channels, allowing signals from multiple devices* to be bundled together and transmitted simultaneously, reducing latency for a smoother, more responsive Wi-Fi experience.
Commercial-grade Security for your Home Network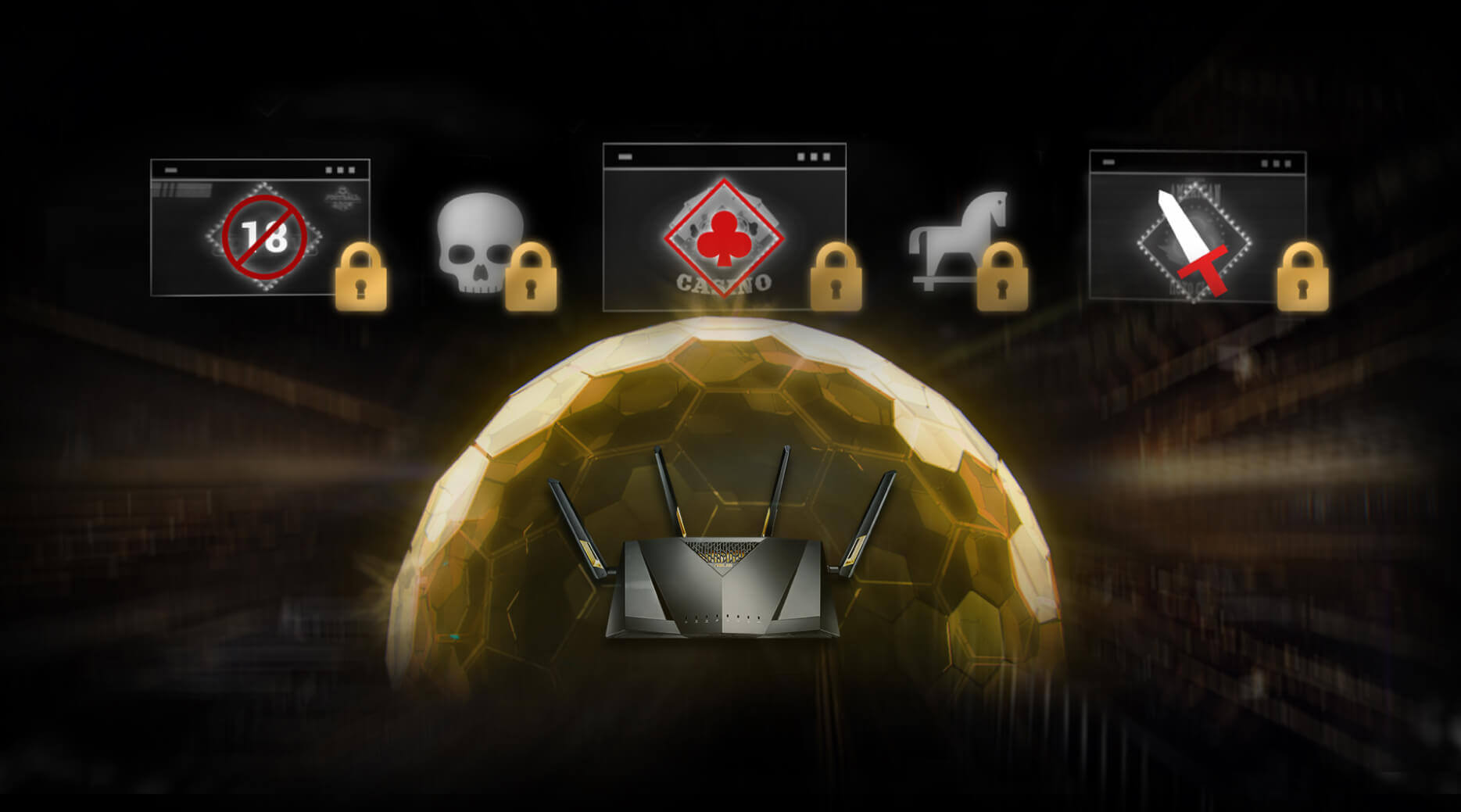 More LAN Ports for More Convenience

Powerful Whole-home Wi-Fi System.
Extreme Power with 1.8GHz Quad-core CPU